Saturday, October 31, 2015
Posted by

Attila Gokbudak
at 2:19 PM
No comments:

Wednesday, October 28, 2015
Instead of focusing on strife in places like Afghanistan, Syria, and South Sudan, the BBC World Service will be giving live updates from the CNBC Republican Debate held tonight in Boulder, Colorado. Perhaps, that it is indeed quite fitting.
SPOILER ALERT: The Kansas-Iowa State college volleyball game we mentioned in earlier tweets resulted in a Kansas victory (3-1).
These tweets are from Washington, DC, media outlets as well as some partisan and non-partisan observers. Now, the BBC is saying that Google is trying to reach remote jungle areas in Indonesia, hmm....yeah, we can't imagine we get many hits from those areas.
The photo above is of Sen. Ted Cruz (R-Tex), one of the Republican candidates, who bears a stark resemblance to the late "Dracula" actor Bela Lugosi.
Here are the tweets:
1) The Hill: "Ben Carson on homosexuality_ I believe our Constitution protects everybody."
2) The Onion (a satirical publication): Jeb Bush Inching Podium Closer to Center of Stage During Commercial Breaks.
3) Chris Cillizza (Washington Post): Marco Rubio and Ted Cruz are just on a different level tonight.
4) Robert Costa (Washington Post): Bush muted. No more hits on Rubio for now.
5) Bernie Sanders (liberal presidential candidate): "It is an embarrassment that we have a major political party that rejects the overwhelming science on climate change."
6) Emily Stephenson (Reuters): Rubio: Democrats have the ultimate Super PAC, it's called the mainstream media.
7) Glenn Kenny (movie critic): One liners not withstanding Rubio's a goddamn fascist.
8) John Robinson (former Greensboro, NC "News&Record" news editor): "You poor people watching the GOP Debate. You could be watching the Series or the NBA or Jane Seymour's Skin Care Secrets."
9) Tom Tomorrow (liberal cartoonist): Another hit on the media DRINK.
Posted by

Attila Gokbudak
at 8:17 PM
No comments:

Labels: Bela Lugosi, Ben Carson, Boulder, Chris Cillizza, Colorado, Colorado Republican Debate, Google, Indonesia, Jeb Bush, Marco Rubio, Sen. Bernie Sanders, Ted Cruz, The Onion, Tom Tomorrow
Colorado Springs, Colorado, is not only the most politically conservative in Colorado, but also one of the leading right-wing settlements in America. But, the CNBC Republicans Debate took place at the University of Colorado in Boulder, Colo., a liberal enclave which is represented by Cong. Jared Polis (D-Colo., pict. above), one of the few openly gay current members of Congress.
Here are tweets which are mostly from Colorado sources, mixed in with an update on the Kansas-Iowa State college volleyball game in Ames, Iowa, which was broadcast on ESPN-U tonight.
1) The Colorado GOP: Packed house at the official Colo GOP watch party. CO Republicans are engaged.
2) Denver Political News: Carly Fiorina blasts politicians for talking about tax reform for years, but not doing anything about it.
3) Jared Polis: Jeb and Rubio fighting as only lovers can.
4) Marshall Zelinger (local newspaper reporter): Chris Christie makes an appearance at the GOPDebate. Better make it worth it, not sure when he's gonna be asked another question.
5) Cyclone Volleyball: ISU has sure fire now! 3-0 run has reduced the Kansas advantage to 9-7 in the fourth.
6) Adrian D. Garcia (Coloradoan Reporter, a newspaper in Fort Collins): CNBC to Fiorina: 'Your board fired you, I'm just wondering why you think we should hire you now?'"
7) Foreign Affairs: For those glued to the GOPDebate tonight, the World Series Game 2 is tied 0-0 at the top of the fourth.
8) College Republicans: Thank you, Ted Cruz for saying what we are all thinking.
9) Colorado Dems: Rand Paul's budget priorities cuts to programs that hurt Coloradans.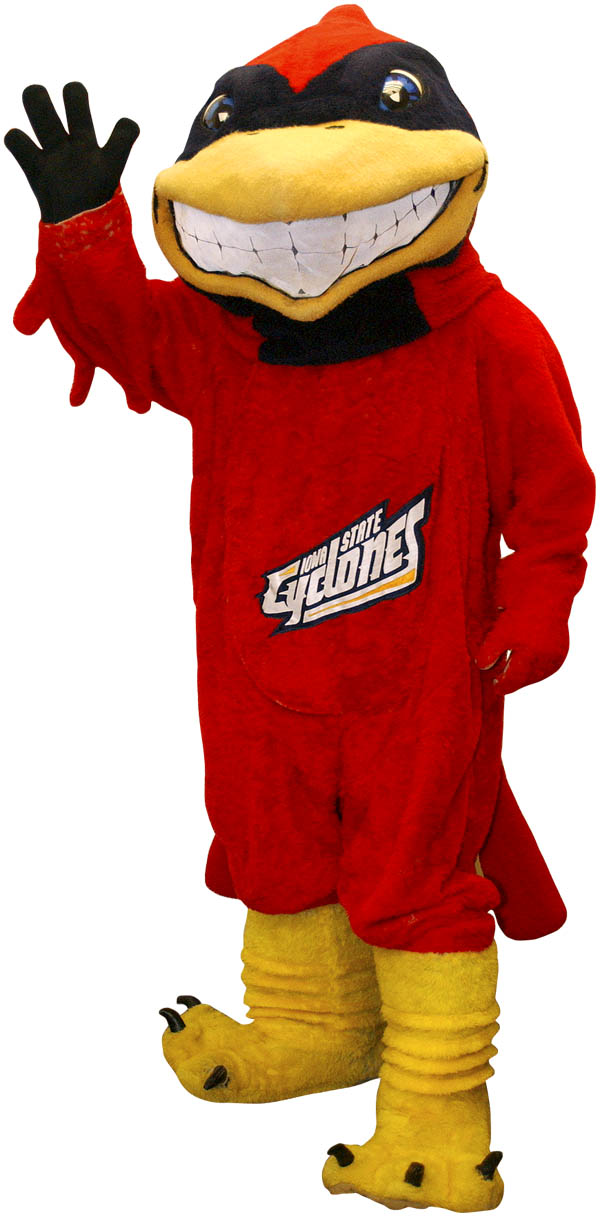 Though tonight's CNBC Republican debate was held in Boulder, Colorado, as opposed to Ames, Iowa, we are going with an image of Cy, the Iowa State mascot, as we were also keeping track of an Iowa State home volleyball versus Kansas as well as the World Series. We will say who won that game in a later entry.
Here are tonight's tweets:
1) Chris Cillizza (Washington Post): Say what you want about CNN's intro music and stuff, it's WAY better than this.
2) Crowley Report: Let's keep the camera on the panel said a CNBC director who should be fired.
3) Boer Deng ("The Times" of London): Trump clearly never saw Mulan_you know the Great Wall gets breeched.
4) Liz Mair (conservative political strategist): "Donald Trump literally just compared Latin American unauthorized immigrant to Mongolian hordes. Interesting."
5) Jonathan Chait (New York Magazine): "First question for Donald Trump: Has your entire campaign been a dream"
6) Cyclone Volleyball: Maggie Anderson sends a serve wide and we on the board in the third set, 1-1."
7) Joe Perez (Kansas City Royals fan): Please never show the Matthew McConaughey commercial my World Series.
8) David A. Bell (Princeton U historian): Food fight!
9) Kai Ryssdal (host of NPR's "Marketplace"):Why is Trump going after John Kasich? Don't quite get it.
Posted by

Attila Gokbudak
at 7:16 PM
No comments:

Labels: Boulder, Chris Cillizza, college volleyball, Colorado, Colorado Republican Debate, Donald Trump, Iowa State, John Kasich, Jonathan Chait, Liz Mair, World Series
Thursday, October 8, 2015
Greetings to our blog readers in Azerbaijan, Ireland, and Switzerland........
Yes, it has been a full two weeks since we last entered a blog entry. In that time, Katie Holmes has reconciled with ex-husband Tom Cruise, and Tim Tebow has converted to Islam, well, of course, neither of those things have happened though the image with Tebow in a turban is quite striking.
As many of you know, Washington, D.C., our nation's capital has been turned upside down this week as House Speaker John Boehner, a Republican from Ohio, abruptly resigned from Congress. Then, today, Cong. Kevin McCarthy, his hand-picked successor 'bailed out' of being elected speaker. Thus, Cong. Paul Ryan (R-Wisc., pict. bottom), the 2012 veep candidate is being recruited though he has told the media he is not interested.
This makes one speculate that just anyone, including actor Kevin Spacey (pict. top) who plays a fictional South Carolina congressman could be in the running! Spacey plays the house member of the Netflix series "House of Cards."
Netflix also made news today as they announced they were increasing their subscription rates by one dollar, which Twitter also chimed in on.
Here are 11 tweets from a group as politically diverse as Rich Lowry, an editor at the conservative "National Review" and David Corn, a progressive reporter with "Mother Jones."
1) The Nation (a liberal magazine): "The GOP has actually been teetering on a chaotic cliff for a long time_as has American conservatism."
2) The Weekly Standard (a conservative magazine): "Just over a week ago, Kevin McCarthy first considered dropping out of the race."
3) Rich Lowry: "Source says it's btwn Ryan and his wife right now. If that's a go, next hurdle will be whether he thinks he can 218 votes or not."
4) David Corn: "You know what we need today? Sarah Palin news."
5) Ryan Grim (Huffington Post): Fun fact: Kevin Spacey shadowed Kevin McCarthy for his House of Cards role.
6) Brian Stelter (CNN): " 'To continue adding more TV shows and movies incl many Netflix original titles, we are modestly raising the price...' "
7) Dave Weigel (Washington Post): "I'm shocked, shocked that Ryan did not elucidate his plans while being chased by cameras."
8) Chad Pergram (Fox News): Paul Ryan is fundamentally about two things: Family and numbers. And, balancing that equation doesn't always work in politics.
9) Washington Post: Ben Carson suggests that gun rights could have kept Hitler from killing as many Jews.
10) Mother Jones: The chemical in cookware and cupcake wrappers might be causing cancer.
11) Washington Diplomat: Imprisoned Saudi blogger's* wife protest at Saudi embassy in Vienna. (That blogger is Raif Badawi).
Well, that's it for tonight, now it's time to go to The Diner on 18th Street NW in Washington, DC**
http://www.dinerdc.com/
where who knows, we might run into Cong. Virginia Foxx (R-NC) and pester her about what's going on inside Capitol Hill?! (we actually live pretty far from DC)
Posted by

Attila Gokbudak
at 7:07 PM
No comments:

Labels: Azerbaijan, Ben Carson, David Corn, Ireland, John Boehner, Katie Holmes, Kevin Spacey, Netflix, Paul Ryan, Raif Badawi, Rich Lowry, Switzerland, Tim Tebow, Tom Cruise, Virginia Foxx