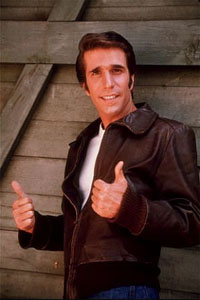 Recently, I sat down to write my memoir of growing up as the son of a Turkish immigrant (my father Mehmet Gokbudak died on my 13th birthday in 1983) in Salem, Va., during the 1970s.
Much of my writing focused on some dark chapters including how my father died of a sudden, abrupt heart attack while I was preparing to go to my junior high school.
But, there were some lighter moments I rediscovered.
Like many immigrant fathers (as well as perhaps Southern Baptists), my father was a bit uptight about how American pop culture was influencing his children. He did not like the way I would 'talk back' to him.
He attributed this to "Happy Days." While there were other shows that we watched which he hated like "Different Strokes," this coming-of-age comedy was public enemy nunmero uno. He really hated Fonzie's catch phrase: "sit on it."
He also saw Tom Bosley's character as a weak, pushover father figure.
So, some time circa 1981, we were actually forbidden to watch "Happy Days" (I wonder if Dick Cheney did this to his children as well).
But, alas my father couldn't win for the show aired in reruns during the afternoons, and of course since it was 'banned,' I was eager to watch it even more. I must have seen the episode where Fonzie jumps the shark six or seven times.
Alas, "Happy Days" has not really stood the test of time though in my view "That '70s Show" was essentially a remake of it, and by no means is it nearly as 'cool' as the original.